Top 10 Pratt 16mm Film Rarities
I work in the A/V Dept. of Baltimore's
Enoch Pratt Pratt Library
. The 16mm film collection there is pretty amazing, filled with rare and unusual documentaries, short films and experimental cinema - many not available in any other format. This is a list of the creme of the crop. And, as in Nigel Tuffnalls amplifier volume controls in
Spinal Tap
, this one goes to 11. Of course, our collection of experimental and animated films is a whole other category, also included below.
Top 10 Pratt Gems of Exquisite Rarity
1. Asparagus (1979)
This candy colored animated nightmare rocked audiences upon its release - it ran theatrically with David Lynch's
Eraserhead
on the Midnight Movie Circuit - and catapulted Suzan Pitt to the front ranks of indie animation. From its opening scene of a woman defecating an asparagus spear into her toilet bowl to the concluding set piece (also very Lynchian and reminiscent of the theater scene in
Muholland Drive
) in which the artist opens her Medusa's box to release rare wonders before a claymation audience, stunning cel animation propels its blank-faced protagonist into a world of Freudian symbolism and Jungian archetypes. Winner of the grand prize at the Oberhausen Short Film Festival. Suzan Pitt also worked on some Peter Gabriel music videos. Suzan Pitt Web site: http://home.earthlink.net/~suzanpitt/ (Suzanne Pitt, 1979, 19 minutes, color, 16mm)
2. Time Piece (1965)
Not available in any other format (VHS, DVD) but this 16mm print.
This early live-action film produced by and starring Jim Hensen (of
Muppets
fame) documents a day in the live of one man in the urban rat race. While he is in a hospital bed, the typical day of a young executive flashes before his eyes. Realistic scenes cut to wild dream sequences that comment on the reality they interpret. This reminds me a lot of the 60s Monkees movie
Head
. Nominated for an Oscar (
Best Short Subject – Live Action
) in 1966. Produced by Jim Henson, photographed by Ted Nemeth with music by Don Sebesky. See also
Mystical Movie Guide
review. (Jim Hensen, 1965, 9 minutes, color, 16mm)
3. Rendezvous (1976)
Few films are as steeped in myth as this 9-minute adrenalin-fueled speed race by Claude Lelouche (
Un Homme et Une Femme
) that allegedly got him arrested the first time it was shown (for its numerous flagrant traffic violations!). Mounting a point-of-view camera on the front of the car, Lelouche takes viewers on a wild high-speed drive through the streets of Paris - all filmed without special effects, sped-up film or blocked-off streets. A favorite of the editors of Car & Driver magazine, ("better than any chase ever filmed, because it's real") it is definitely NOT recommended for driver's ed students. Clever denouement, as well. (Claude Lelouche, 1976, 9 minutes, color, 16mm)
4. Deafula (1975)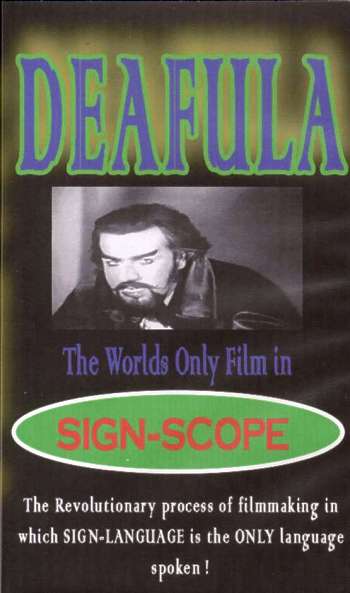 Deafula
was the world's only movie filmed entirely in "Sign-Scope." Director Peter Weschberg stars as Count Dracula in this film made for the deaf and hearing-impaired that is told entirely through sign-language. Long out-of-print, it is available for rental in 16mm film format through Enoch Pratt Free Library's Audio-Visual Department. See Mike White's review and interview with producer Gary Holstrom in
Cashiers du Cimemart
. (Peter Weschberg, 1975, 95 minutes, b&w, 16mm)
5. Circus Town U.S.A. (1971)
Peru, Indiana is known as Circus Town, the
Circus Capital of the World
- at one time its 12,994 inhabitants were host to as many seven different circus troupes at a time - and since 1958 has celebrated its heritage with an annual, week-long Circus Festival where some 300 children are invited to participate in circus activities under the Big Top. This ultra-rare film, produced by NBC (was it a TV special?), documents one such festival, where hard work and perseverance are stressed more than talent. The trainers are retired circus folk who now live in Peru - a housewife trains the clowns, a factory foreman, newspaper editor and local restaurant owner play in the band, and even a 6-year-old gets in on the act. A fascinating look at life on the Midwest Midway. You won't find this one anywhere else! (David Tapper, 1971, 48 minutes, color, 16mm)
6. De Duva (The Dove) (1968)
Nominated for an
Oscar
in 1969, this riotous spoof parodies three of Ingmar Bergman's films -
Wild Strawberries
,
The Seventh Seal
, and
The Silence
. Speaking in mock Swedish, with English subtitles, a retired physicist with a hernia recalls, while sitting in an outhouse, a garden party he attended as a youth. In a game of badminton rather than chess, Death loses his intended victim because of a hilarious obstacle ... a dirty pigeon! Director
George Coe
was one of the original cast members on the first three episodes of
Saturday Night Live
. And script writer
Sid Davis
, who also plays the role of Death, is perhaps best known as a director/producer of educational scare films notorious for giving school children nightmares (such as traffic safety films containing actual accident footage and films warning of child molesters). (George Coe and Anthony Lover, 1968, 15 minutes, b&w, 16mm)
7. Orioles In Action 1962
Baseball Hall of Fame broadcaster Chuck Thompson passed away this past March, 2005, at age 83. It's fitting then that Pratt's 16mm film collection contains something future generations can refer to when they want to understand his contribution to local sports lore, in this case a 1962 Orioles season recap narrated by the man who was the voice of the O's for the better part of five decades, starting in 1955. This amazing historical record contains the oldest known existing COLOR footage of Brooks Robinson and rookie John "Boog" Powell! The film starts off at the O's minor league camp in Thomasville, Georgia (where you can see Earl Weaver swatting grounders in his pre-managerial days), and continues through Spring Training in Florida. But the most interesting part of all may be the regular season highlights footage, featuring Opening Day at Yankee Stadium and the O's home opener against the Red Sox (where Brooksie hits his first homer of the season and rookie Boog gets his first major league hit in Memorial Stadium). (27 minutes, 16mm).
8. Psychic Parrot (1977)
This film takes a satirical look at the effects of television on unsuspecting, non-discriminating viewers. From IMDB: "An ordinary middle class suburban couple sees a celebrity parrot on TV who supposedly foretells the future. The parrot predicts the world is coming to an end. The couple are initially shocked, and then decide to make the most of the time they have left. They get dressed up and decide to celebrate as if it was New Year's Eve, since the world is supposed to end at midnight. On TV, it is shown that all the important people of the world are selected and sent to the moon in a space ship so they can escape the earth's destruction. As midnight approaches the couple gamely prepares to toast their demise, but midnight comes and the world doesn't end. A special comes on TV and the parrot explains he made a mistake. As he starts to correct himself, the moon blows up. All of the scenes on TV are animated cartoons. The scenes with the husband and wife are filmed live actors." (Derek Lamb, 1977, 20 minutes, color, 16mm)
9. Braverman's Condensed Cream of Beatles (1973)
An Oscar-winning history of the Beatles and the 1960's from the flip, exuberant, youthful days to the sober, socially conscious end of the decade is seen in a fast moving collage of still pictures, films clips, works of art, and album covers accompanied by the innovative music of the British quartet. Excerpts from their films are also effectively intercut, presenting the spirit of the Beatles, the spirit of the times and the lasting imprint of life and culture made by this remarkable group of musicians. Awards: Atlanta Film Festival, Academy Award (Oscar).(Charles Braverman, 1973, 17 minutes, color, 16mm)
10. The Star-Spangled City: Our Baltimore (1978)
This labor of love was directed, produced and narrated by legendary hometown magician
Vincent Dantini
(his business card said "Dantini - He Knew Houdini!"), who passed away in 1979. It was the Fells Point resident's fourth and final film and somewhat of a debacle as Dantini rented out the 13,500-seat Baltimore Civic Center (what today is the 1st Mariner Arena) for its 1978 premiere and lost his life's savings (to the tune of $5,000!) when only 60 people showed up. Besides featuring guest appearances by Blaze Starr, City Councilman Mimi DiPietro, and Mayor William Donald Schaefer, and a look at one of the earliest Baltimore City Fairs. There are two print versions in Pratt's archives - a 27-minute one-reeler and an hour-length two-reeler print, the latter managing to capture a fire in the background while Dantini is touring the Inner Harbor! (Dantini Films, 1978, 27 minutes, color, 16mm)
11. Precious Images (1986)
In this Academy Award-winning film (Best Short Film, Live Action, 1986), director
Chuck Workman
presents the greatest scenes from 50 years of film - from
Citizen Kane
to
Star Wars
– in six breakneck minutes of skillful editing. The incredible short cuts of roughly a second each push the audience into a kind of trance and take them on a journey into their individual memories of great films of half a century. Workman's annual montages are often the visual highlight of each year's Academy Awards telecast.
Precious Images
went on to become the most widely-viewed short appearing in schools, museums, film festivals and movie theaters worldwide.
Precious Images
is one of five Workman films in the collection of The Museum of Modern Art in New York. (Chuck Workman, 1986, 6 minutes, b&w and color, 16mm)
Honorable Mentions for Rarities/Oddities:
1. FILM (1965)
Samuel Beckett's
FILM
is a 20-minute, almost totally silent film (no dialogue or music one 'shhh!') in which Buster Keaton attempts to evade observation by an all-seeing eye. But, as the film is based around Bishop Berkeley's principle 'esse est percipi' (to be is to be perceived), Keaton's very existence conspires against his efforts. (Samuel Beckett, 1965, 20 minutes, 16mm) Read a review:
LearMedia
2. Report, 1964-1965 (1965)
In a work of memory, affection, and grief, filmmaker
Bruce Conner
uses experimental techniques, such as stop-action newsreel footage, numbered leader, television commercials, and a scene from Frankenstein, to record the assassination of President Kennedy, and to protest the exploitation of his death and the violence of the times in which he lived.
Newsweek
's Jack Kroll called Conner "the most brilliant film-editor of the avant-garde." And
Film Quarterly
's David Mosen commented on
Report
thusly: "Society thrives on violence, destruction, and death no matter how hard we try to hide it with immaculately clean offices, the worship of modern science, or the creation of instant martyrs. From the bullfight arena to the nuclear arena we clamor for the spectacle of destruction. The crucial link in REPORT is that JFK with his great PT 109 was just as much a part of the destruction game as anyone else. Losing is a big part of playing games." And Conner himself says of it: "I was so emotionally involved initially with REPORT that I would have to leave the auditorium while it was shown. It would disturb me so much that I would be physically shaking." How precious is this film?
Canyon Cinema
sells 16mm copies for $1,800! At one time there was a DVD available from
Michael Kohn Gallery
in West Hollywood called
2002 B.C.
that contained eight 16mm Conner shorts, including
Report
. But Conner stipulated that his fans donate $50 dollars to one of three L.A. charities in order to get the disc. Film geeks can try dialing (323) 658-8088 to see if it can still be philanthropically purchased. (Bruce Conner, 1965, 13 minutes, b&w, 16mm)
Bruce Conner Trivia:
During the 1960s Conner became an active force in the San Francisco counterculture as a collaborator in light shows for the legendary
Family Dog
at the Avalon ballroom, and through his intricate black-and-white mandala drawings and elaborate collages made from scraps of 19th-century engravings, all of which remain icons of the period's sensory-based spirituality. In the 70s, he started photographing SF punk bands for
Search & Destroy
magazine after seeing Devo play there (on a tip from his pal Antonia Christina Basiloti - better known as
Tony Basil
- who years earlier he filmed dancing naked in 1966's
Breakaway
). And Scott Huffines tells me a rarely seen Bruce Conner video for "Mongoloid" appears on the Rhino DVD
Devo - The Complete Truth About De-Evolution
. Scott adds that from its plentiful use of archival footage, "You can see the influence it had on Devo's later
Beautiful World
video."
Report Trivia:
Between 1963 and 1967, this film went through seven transformations (
Pratt's print is apparently a version from 1964-1965
), and in 2005 Conner transferred the film to digital for yet another version. Conner comments: "My concept was to make every viewing print similar using the same soundtrack, but the images would change with each print. People could see this long process of various images at different viewing times. The experience would be similar to people's memory of seeing films when they are shown again. There is sometimes a moment of wonder when the images seem to be different or in a different order than when the film was first seen...In the 1960s, it was possible to make unique reversal prints. I would just edit the A-roll of REPORT (one single line of 16mm film) take some images out, move them around, put other ones in. During the first eight minutes of the film, I used one image that would repeat over and over and over as a film loop. The prints went into distribution or into people's hands, and then they would someday disappear from wear and tear."
3. The Rite of Love and Death (1967)
Japanese novelist
Yukio Mishima
's screen adaptation of his short story Patriotism. The story is based on an actual incident which took place in 1936 when a young Japanese lieutenant and a group of fellow officers initiated a coup d'etat. The coup failed its immediate objectives and the hero commited seppuku (hara kiri). The short story concerns itself with the lieutenant after he returns home to his young bride. Because the coup has failed, he must, as a member of the palace guard, execute his friends. Rather than do this, he decides to commit suicide. His wife readily agrees to kill herself also. The film follows the lieutenant and his wife as they eat, and make love for the last time. As the wife looks on, the lieutenant then commits seppuku. His wife writes her last note and cuts her throat. With Yukio Mishima as the lieutenant, and Yoshiko Tsuruoka as his wife. Without narration or dialogue. FOR ADULT AUDIENCES. (Yukio Misima, 1967, 29 minutes, b&w, 16mm)
4. The Man Who Could Not See Far Enough (1981)
This Peter Rose film examines the act of vision by proposing different ways of seeing into space and time, using literary, structural, autobiographical, and mythic metaphors. Incorporates a wide range of material from a solar eclipse, to a climb up the Golden Gate Bridge. Besides Pratt, this film is also owned by the Centre Pompidou in Paris, France and the Image Forum in Tokyo, Japan. Peter Rose's films are distributed by
Canyon Cinema
. Awards: Special Jury Prize, Festival de la Jeune Cinema, Hyeres, France; Director's Prize, Baltimore Film Festival. (Peter Rose, 1981, 33 minutes, color, 16mm)
5. Ballet Robotique (1982)
In
Ballet Robotique
, the graceful movements of General Motors assembly line robots are perfectly synchronized to classical music recorded by London's Royal Philharmonic Orchestra. Nominated for an Academy Award in 1983 (Best Short Film, Live Action), this may be the only industrial film ever to have been nominated in a creative category. (Bob Rogers, 1982, 8 minutes, color, 16mm)
Other Notables Worthy of Mention:
Pratt's Top 10 Animated/Experimental Films
(a work in process)
1. Quasi at the Quackadero (1976)
The animated story of Quasi, a science fiction kid who goes for a day's outing with his grownup friend, Anita, and a little robot, Rollo, to the Quackadero, an amusement part of the future. In carnival sideshows they have their dreams reenacted, trace previous incarnations, and deal with a very strange barker. At the Time Hole pavilion, Anita and Rollo seize the chance to push Quasi over the edge into 3,000,000 B.C. (Sally Cruikshank, 1976, 10 minutes, color, 16mm)
2. The Great Cognito (1982)
In clay animation, a night club act of impersonations. The fast-talking comic recalls the great men and events of World War II.
Currently not available anywhere else.
Appeared at one time on a DVD collection called
The World's Greatest Animation
, copies of which go for $157. Used VHS copies may be cheaper and easier to find. (Will Vinton, 1982, 5 minutes, color, 16mm)